OUR MISSION IS TO EMPOWER WOMEN THROUGH
EDUCATION... CONNECTION…COMMUNITY™
The Summit is a curated experience where women are EMPOWERED through EDUCATION. CONNECTION. and COMMUNITY™. Often described in one sentence as an experience of sisterhood, laughter, exchange and refreshing! You don't want to miss it. This year's theme is SOAR. We're discussing everything you need and want to know about LIFT OFF from Prepping for Take Off to Checking Your Circle. Our main stage panel will discuss how to juggle competing priorities without losing your sense of self. Relax in our Zen Lounge, get creative in our Social Media Suite and stay inspired with goodies from our Soar & Shop.
Learn More About
This Year's Summit
SHERICA HYMES
JOIN US
SEPTEMBER 28, 2019
10:00 AM – 3:00 PM CDT
Location
The Great Hall & Conference Center
1900 South Germantown Road
Germantown, TN 38138
This year we're joining The Fight Against Domestic Violence
with support from our Community Partners
We're raising awareness and money for these agencies.
Learn more about each of them below. Thank you to our Community Partner cityCurrent for helping make these amazing videos possible!
Agape F.I.T. Program, featuring David Jordan & Latoria Taylor
NO MORE, featuring Deborah Clubb
United Way & Women United, featuring Lori Spicer-Robertson
YWCA Domestic Violence Shelter, featuring Marquiepta Odom
Sherica Hymes, Founder
Sisterhood is as vital to a woman as love and oxygen. Too often in our careers, in our families and through our social networks, women are encouraged to compete. For too long we have measured our success and our worth against those around us. Sherica Hymes realized women were not being given enough opportunities to connect on a soulful level in many areas of their lives. So she went on a mission to make a change.
By creating the Total Woman's Summit she has helped hundreds of women find meaning and purpose in each other.
Kris Johnson
Candace Morgan
Shondra Morrow
Wendolyn Payne
Makita Surgeon
Lori Spicer-Robertson
Support our efforts to EMPOWER, EDUCATE and CONNECT women.
Amy Stack
A native Memphian, Amy received her undergraduate and Masters degrees in Journalism from The University of Memphis. A student program at the U of M, Up 'til Dawn, led to an incredible internship at ALSAC/St. Jude Children's Research Hospital and Amy has been a member of the ALSAC team ever since.
READ MORE
She has served the St. Jude mission in collegiate programs, field office training and sports marketing. Currently, Amy is a part of the Strategic Partnerships team and leads a team who works on strategy and solutions for corporate partner relationships. In the community, Amy served as President of The Junior League of Memphis and is passionate about the organization's mission of developing women as leaders and change agents in Memphis. She also serves on the Board of STREETS Ministries and U of M LEAD. Amy and her husband, Wade, have two young children, Charlie and Camille, are avid Grizzlies and Memphis Tigers fans and love exploring and enjoying Memphis as a family.
Dr. Angela Anderson
Dr. Angela Anderson is the #1 Amazon international best-selling author of Now What?! Get OVER Yourself and MOVE! Dr. Anderson is a leadership and organizational expert. She is the owner of Dr. Angela Speaks (www.drangelaspeaks.com).
READ MORE
The company mission is to guide individuals and organizations on the journey to maximizing their full potential through solution-focused actions and a positive mindset.
Additionally, Dr. Anderson is internationally certified by the John C. Maxwell Team as an executive advisor, master speaker and trainer. This group specializes in providing training around the world on topics such as leadership, influence, motivation, team dynamics, and much more. Dr. Anderson trains groups within the business, educational, non-profit and healthcare fields. The goal is to empower others to improve, increase productivity, and operate at maximum potential.
Candace Morgan
Candace Morgan Managing Partner, Business Sales Candace Morgan serves as the Managing Partner of Strategic Business Solutions for Verizon, the nation's largest and most reliable wireless carrier. In this role, Candace leads the business team responsible for driving customer growth, revenue, profitability and customer experience to medium and large size companies in Tennessee, Arkansas, and Mississippi.
READ MORE
A 15-year veteran of the telecommunications industry, Candace has held roles of increasing responsibility in the operations, retail and business sales channels. Her performance has earned her accolades such as Verizon's Winner's Circle, South Area President's Recognition of Excellence, Working Mothers Award, Net Promoter Score recognition, and the prestigious President's Cabinet, ranking her amongst the top one percent in the sales organization. Driven by results, Candace takes pride in creating a strong culture with excellent team dynamics that allows team members to exceed their objectives and reach their potential. Candace is a facilitator in the Emerging Leaders Program and Women of Wireless, both programs focus on growth and development.
Danielle Lombard-Sims
Danielle Lombard-Sims, Ph.D., SPHR, is the Vice Chancellor/Chief Human Resources Officer at the University of Arkansas for Medical Sciences (UAMS). In this role, Dr. Lombard-Sims is responsible for developing and implementing a Human Resources Strategic Plan consistent with the university's strategic plan, charting a course for change management, process improvements, leadership development, and greater organizational effectiveness for the university. She previously served in human resources executive roles at Regional One Health, LSU Health Sciences Center and Ochsner Health System.
READ MORE
Dr. Lombard-Sims has more than 20 years of human resources leadership experience. She earned her Senior Professional in HR certification (SPHR) and has been a certified HR professional since 1999. Originally from New Orleans, she graduated summa cum laude from Spring Hill College; obtained a Master's Degree from Purdue University in Industrial/Organizational Psychology; obtained a second Master's Degree in Management from Indiana Wesleyan University; and earned a doctorate in Global Leadership with a specialization in Organizational Management from the Indiana Institute of Technology.
Dr.Lombard-Sims has also co-authored three research articles, which were published in the Journal of Business and Psychology, Computers and Human Behavior, and the Journal of Developmental Education.
Erica Stiff-Coopwood
Mrs. Erica Stiff-Coopwood is a native of Yazoo City, MS and has held many positions to include tax analyst for SMS Tax Incentives, Human Resource Administrator, law clerk on the Tennessee Supreme Court, partner at the Nashville law firm Bone McAllester and Norton. She is married to Reginald Coopwood, the President and CEO of Regional One Health (formerly "The Med") and they have five beautiful children.
READ MORE
Believing we all must give our time and resources to others, upon moving to Memphis, Mrs. Coopwood is committed to raising her family and volunteering in the Memphis community through the Junior League of Memphis, where she serves as President. Erica also serves on the Board of Trustees for Hutchison School.
The Coopwoods are avid supporters of Memphis. Whether progress in Memphis requires a devotion of their time, talents, and/or resources, the Coopwoods are very thankful that the Lord has blessed them with the talent of inspiring and connecting people; with professions and occupations that allow them to both utilize their time for the betterment of others; and for resources that help fund hope and progress in Memphis.
Jerica Phillips
Jerica Phillips recently joined Shelby County Schools as Deputy Chief of Communications. She served nearly 10 years with WMC Action News 5, starting behind the scenes as a news content specialist eventually being promoted to the anchor desk. She has a wealth of experience integrating multimedia, marketing and social media strategies for a range of audiences.
READ MORE
Jerica grew up in Memphis and graduated from Millington Central High School. She earned a Bachelor of Science in Communications and Broadcast Journalism from the University of Tennessee at Knoxville. She worked briefly as a Social Marketing Coordinator for Shelby County Mayor Mark Luttrell's office under a juvenile justice grant. Over the course of the grant, Jerica twice earned the program the Excellence in Community Communications Outreach award presented by SAMHSA.
In 2018, Jerica was honored as The 40 Most Influential Urban Elite Professionals Under 40. In 2015 she was the recipient of the Dreamers of Tomorrow Award presented by St. Mark MB Church. Her achievements include consecutive nominations for Best in Black Awards for Best Local Media Personality.
She is a member of the Memphis Communicators Coalition and Memphis Association of Black Journalists. Jerica is a proud member of the Zeta Delta chapter of Alpha Kappa Alpha Sorority, Incorporated. She is a volunteer with Black Girls Code, Project Homeless Connect and the Code Crew Community. Jerica is also a proud volunteer and advocate with the Down Syndrome Association of Memphis and the Mid-South. In her free time, Jerica enjoys spending time with her family, serving her community, dancing, eating southern food, and traveling.
Kayla Graff
Kayla is a thought-provoking business leader specializing in disruptive business models. Her diverse background includes 4 years of medical device venture development and 6 years customer experience strategy at Target Corp., supported by her MBA and Cornell Project Management education. She brings a fresh perspective to the medical device space and spearheaded raising $3M for SweetBio to support product development through FDA clearance.
READ MORE
Kayla is an excellent communicator talented at setting strategy and building critical relationships and was recently highlighted on 60 Minutes, Forbes and a national television Prudential campaign. She is a proud mom to her 2 year-old son, Maddox, and a champion for young and diverse female leaders.
Lori Spicer Robertson
Since her return to Memphis in 2007, Lori Spicer Robertson has fallen head over heels in love with her hometown, and also fueled by her desire to be part of the incredible change that is happening in her community. Her return home has generated tremendous strides in the community, both professionally and civically. As you follow her career path it is evident that she takes each day as an opportunity to advance her community;
READ MORE
her prior roles included serving as former Manager, Change Leadership for First Horizon National Corporation/First Tennessee Bank; Manager, Community Affairs and Engagement/Volunteer Services for Regional One Health (then known as Regional Medical Center-The MED); and Communications Specialist and Editor-in-Chief of Memphis Crossroads Magazine at the Greater Memphis Chamber. Robertson's prior roles all allowed her to live out her personal platform of helping individuals and this community attain success. Her most recent calling as Chief Communications and Engagement Officer of United Way of the Mid-South, is doing just that, as she works to drive the dreams of this community. Robertson has imagined a community whose economic status represents the expectation of its greatness, whose educational opportunities are unmatched by any in the nation, and whose health of its community supports the premier quality of life of its people, and her current role affords her the opportunity to bring this narrative to life.
Meredith Johnson
Meredith is a powerhouse of drive and passion for all things business. She has managed over 300 accounts in the last six years, predominantly in marketing and branding. She earned her Bachelor's degree from UL Lafayette in Cultural Anthropology, which she believes gives her keen insight into the way people think and engage one another, an invaluable asset in understanding markets, businesses, and their customers.
READ MORE
Meredith's relentless work ethic and ability can be seen in her sales experience. While at The Independent, her sales numbers surpassed those of her superiors. While at Firefly Digital, she increased sales by 300 percent in six months. During her time at Potenza -- pioneering a business development role that still exists today -- she opened up an avenue for a previously unavailable market by signing a national client and increasing overall revenue.
With an insatiable thirst for knowledge, Meredith is fluent in French and is currently studying Spanish. Experienced in fundraising and the arts, Meredith created events in Louisiana allowing artists to share their talents and provide local businesses visibility. Her greatest joy, however, is writing, having been featured last year in Storealities, a compilation of inspiring female experiences.
Meredith is an expert on brand positioning and brand voice. Countless clients have relied on Meredith's skill and ability to see the bigger picture for business growth.
Nicole A. Thomas
Nicole A. Thomas is Vice President/ Sr. Communications Business Partner at First Horizon National Corporation., where manages executive communications and media relations for key lines of business. Nicole's professional background includes communications, media relations, and marketing roles with the NBA's Houston Rockets, Four Seasons Hotels, Southwest Airlines and FedEx.
READ MORE
Nicole earned a Bachelor's in Marketing and a Masters in Public Administration from Texas Southern University in Houston. She earned her MBA from the University of Memphis and a certification in Diversity & Inclusion from Cornell University. She is also an adjunct Marketing and Strategic Management professor at Christian Brothers University.
Since making Memphis her home, Nicole volunteers with the Junior League of Memphis, supports the United Way of the Mid-South and chaired the Volunteer Memphis Corporate Volunteer Council. She currently serves on the board of Momentum Nonprofit Partners and the Benjamin L. Hooks Institute for Social Change. Nicole is also an active member of Alpha Kappa Sorority, Incorporated.
Roquita Coleman-Williams
Roquita has been recognized nationally and internationally - Top 40 under 40, MBJ Super Women in Business, Rising Stars of North American Railroads, and NAACP Distinguished Service – while advocating for gender and minority balance in the transportation workforce.
READ MORE
Roquita is founder and lead story-teller for the Storealities movement – an inspiring book series and documentary project to empower women through raw and authentic story telling. Roquita helps women unravel their most challenging times to discover lessons we all can learn from. She says, "There is a positive reality on the other side of our most difficult moments. And Storealities is here to let every woman know she is not alone on that journey."
Ylorie Taylor
Ylorie Taylor has spent the past decade plus building and leading personal care and beauty brands servicing the multi-cultural consumer. Known for her ability to cultivate relationships, ideate winning strategies, and curate platforms to give exposure to emerging indie brands, Ylorie begin consulting in 2008 under the moniker BrownGirlMarketing.
READ MORE
She has dedicated her beauty career to supporting brands and helping companies better connect with women of color. A candid truth teller, wife, mompreneur, and "chief connections officer" for many of your favorite brands, Ylorie lives a very full life. Most days you'll find her living out her purpose and passions while serving as the Vice President for EDEN BodyWorks.
Dr. LaShaunda P. Massey
Dr. LaShaunda Poindexter Massey is a native of Memphis. She is a licensed clinical psychologist. She provides clinical services to children, adults, and families faced with the most challenging disorders and life circumstances. Her work specializes in childhood clinical issues, abuse/neglect, and depression/anxiety disorders.
READ MORE
Dr. Massey has maintained a thriving private practice for 12 years. Dr. Massey obtained her Bachelor of Arts degree in Psychology from Georgetown University in Washington, DC. She graduated with honors from DePaul University in Chicago with a Master of Arts in Psychology and then with her Doctor of Philosophy. Dr. Massey completed her doctoral internship through the University of Tennessee Psychology Consortium and was licensed as a Clinical Psychologist by the state of Tennessee in 2001.
In addition to her clinical career, Dr. Massey is active in the community. She has served on the Board of Directors for Friends for Life and the Harwood Center. Dr. Massey is an alumna of Leadership Memphis (Executive Program 2016) and a member of the Junior League of Memphis. Dr. Massey is currently on the Board of Directors for Big Brothers Big Sisters of the Mid-South.
Dr. Massey uses her strong spiritual background as a source of strength and as additional avenue to impact the lives of others. Dr. Massey is an ordained minister. Her motto is "Cogito Ergo Sum," a Latin phrase meaning "I think, therefore I am." Dr. Massey believes thoughts are the catalyst for feelings and actions, thus mastery of the mind is a key to success.
Michelle Calhoun
Michelle is a Certified Professional Life Coach that specializes in helping people overcome imposter syndrome and quieting their inner critic so that they can present themselves with more confidence and be more successful in their personal and professional lives.
READ MORE
She is also the host of a new radio show called The Power of HerStory, where she interviews Women Business Owners in the Memphis area and beyond believing that "When we share women's stories it empowers more women to write their own".
Behind every GREAT WOMAN
are great women, who SUPPORT HER!
The Total Woman Summit was EVERYTHING I thought it would be and a WHOLE lot more. From the moment I arrived, I was in awe. It was moving, touching, emotional, inspirational, encouraging, uplifting, engaging, and motivational. I couldn't have IMAGINED not being in attendance. I can not WAIT to attend this year.
— Monica Kegler
Awesome workshop today! I truly appreciate all the speakers pouring into my life and sharing such needed, helpful knowledge. Women empowering women is awesome indeed! I'm so glad I opted to come as I almost declined due to being in the middle of my doctoral comprehensive exam .... but God! Thanks again! May God continue to bless you and keep his loving arms around you!
- CORA R. JONES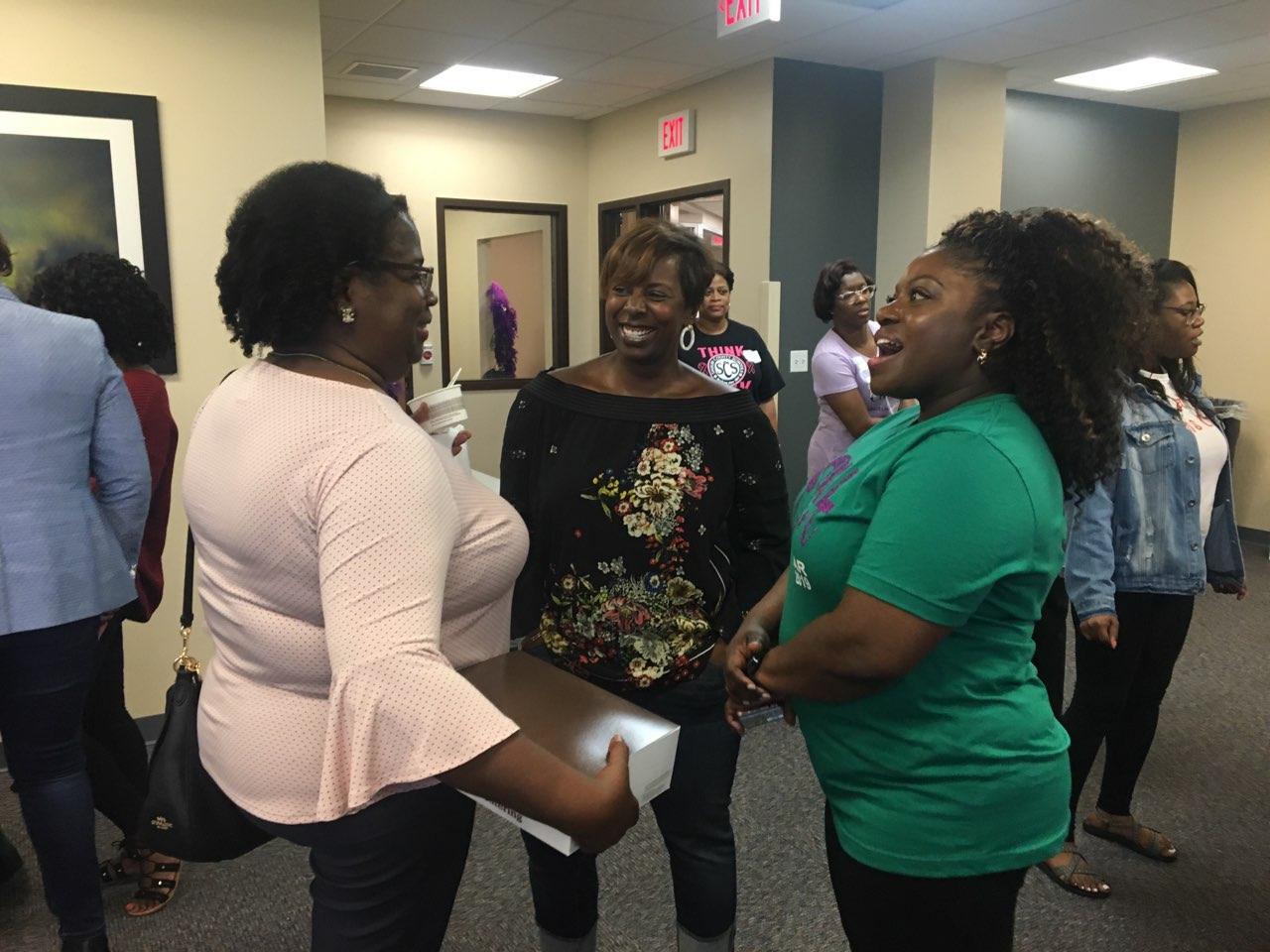 The impact from this amazing seminar was one of a kind, the conference truly lives up to "it name. I can honestly say that my TOTAL LIFE has not been the same. My mind, my body, my spirit, my FINANCES and TIME has been totally reclaimed, refreshed and rejuvenated. This summit exceeded my expectations; what I've gained keeps me accountable for what I am determined to attain. Trust me, your life will not be the same! To all the panelists THANK YOU!"
-Venytra Harris
Never miss an update
JOIN THE
SUMMIT INNER CIRCLE